Jack Russell Puppies For Sale in Texas
The adorable Jack Russell Terrier puppies shown below are currently available for sale to approved buyers. If you are interested in purchasing a puppy, please call Debbie at (214) 679-5474.
We do not allow our puppies to leave until they are 8 weeks old.
Currently Available Jack Russell Terrier Puppies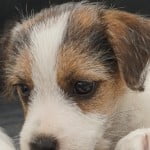 DOB: 04/25/2015 Sire: Dukes Legacy Clyde Dam: Dukes Legacy Betsy Sex: Female Color: Tri Coat Type: Rough State of Texas Registered Breeder License #275 To reserve this puppy, please call Debbie Schoenig – (214) 679-5474 – dukeslegacy@gmail.com
More...
---
Apply to Purchase a Jack Russell Terrier Puppy Here!