Jack Russell Puppies For Sale in Texas
The adorable Jack Russell Terrier puppies shown below are currently available for sale to approved buyers. If you are interested in purchasing a puppy, please call Debbie at (214) 679-5474.
We do not allow our puppies to leave until they are 8 weeks old.
DOB 2/12/2015 Ready to go 4/10/2015 Parents are Leap N' River Annie and Dukes Legacy Winston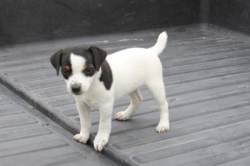 DOB 2/12/2015 Ready to go 4/10/2015 Parents are Leap N' River Annie and Dukes Legacy Winston