Welcome to Duke's Legacy Jack Russell Terriers in Honey Grove, Texas
Check the puppies for sale page for more listings. Jack Russell Terrier Puppies Below NOW AVAILABLE!
If you are looking for healthy, happy and hearty Jack Russell Terrier puppies for sale in Texas, you've dug up the right website! We have a number of exceptional JRT puppies available, both male and female, rough and smooth coat in a variety of colors. Call Debbie at (214) 679-5474. I will be happy to speak with you! We are located in Honey Grove, within a 90 minute drive from Plano, Garland, Arlington and Dallas, Ft. Worth, Texas. We have placed puppies in Houston and Austin as well.
Debbie Schoenig – (214) 679-5474 – dukeslegacy@gmail.com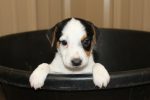 DOB: 03/30/2021 Ready to Adopt by: 05/25/2021 Sex: Male Color: Tri Coat Type: Broken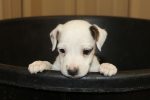 DOB: 03/30/2021 Ready to Adopt by: 05/26/2021 Sex: Male Color: Tri Coat Type: Broken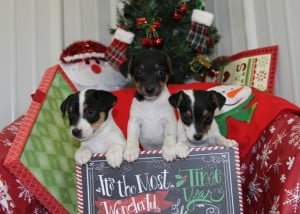 Located just a short drive from Dallas/Ft Worth, Texas, Duke's Legacy Jack Russell Terriers was born out of love for a very special Jack Russell Terrier dog, Duke. We have owned and raised Jack Russell Terriers for the past seven years; all of our JRT's have been with us since puppyhood and have been home-raised. We are dedicated to protecting and preserving the Jack Russell Terrier dog breed, and strictly adhere to the responsible breeder guidelines set forth by the JRTCA. We endeavor to produce Jack Russell Terrier puppies that are healthy, sound, attractive and with excellent temperaments and hunting/working ability; each JRT puppy a living tribute to our first Jack Russell, Duke.
Our Jack Russell Terriers enjoy the good life on our 320 acre Texas cattle ranch in Honey Grove, Texas (a short drive from both Dallas Ft Worth and Houston, Texas), where they have plenty of opportunity to practice their working and hunting skills. We are also active in Jack Russell Terrier events in our area. Our JRT's love participating in conformation, racing and some of the other activities at trials, and have more than a few titles to their credit.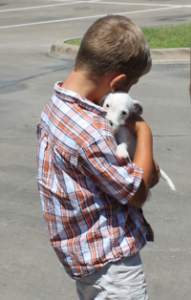 Our
Jack Russell Terrier pups
are born and raised in our home and socialized with children and adults alike. They are use to being around many people who hold, play and talk to them; setting the foundation for a terrier of sound disposition and calm nature. Our
Jack Russells
are first-hand members of our family, living with us in our home and taking part in all of our family activities. Our goal is to place our
JRT pups
in loving families where the same level of care and affection will be provided for the life of each puppy. All of our
dogs and puppies
love affection and attention, and have become very adept at stealing the hearts of all they meet.
We hope that you enjoy your visit to our web site as you learn more about our Jack Russell Terriers and breeding program. Feel free to browse through our growing gallery of Jack Russell Terrier pictures and JRT information. If you feel that a Duke's Legacy Jack Russell Terrier puppy is for you, please feel free to contact us by phone or email. Our passion for Jack Russell Terriers is highly contagious, and we'll be happy to help you make an educated decision about the right choice in a JRT puppy for you.
We look forward to hearing from you.
We are located in Honey Grove, Texas, within driving distance of many major centers including:
Dallas/Ft Worth, Houston, Tulsa, Oklahoma & Wichita, Kansas. We welcome visitors by appointment.
Debbie Schoenig – (214) 679-5474 – dukeslegacy@gmail.com